Annual Show Dates of 2017: 
          Sunday May 7th – 8:30 until 5:00
          Monday May 8th – 9:00 until 5:00
Do you want to check what time your breed is showing?
Do you want to watch the Obedience/Rally competitions?
Do you want to watch the 4-6 Month Beginner Puppies?
  **NEW for 2017** – Coursing Ability Tests (CAT)
There will be six (6) coursing ability tests.
2 tests on each day –  Fri 5/5;  Sat 5/6; Sun 5/7
 Click below for the CAT premium and entry form.
The Trenton Kennel Club was formed in 1911, and became a recognized member club of the American Kennel Club in 1928. The objectives of the Trenton Kennel Club are:
to further the advancement of all breeds of pure-bred dogs;

to encourage the scientific breeding and improvement of the quality of all pure-bred dogs;

to support and contribute financially to scientific endeavors whose objects are destined for the care, cure and general welfare of all breeds;

to conduct sanctioned matches, dog shows and obedience trials under the rules of the American Kennel Club;

to encourage sportsmanlike competition at dog shows and obedience trials; and

to conduct seminars and educational programs for all members and dog fanciers

.
General Information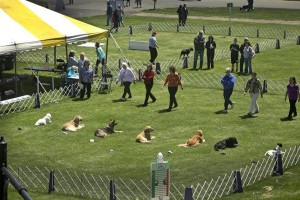 The Club's premiere annual event is an outdoor All-Breed Dog Show and Obedience Trial held in May at the spacious and beautiful  Mercer County Park Festival Grounds in West Windsor Township, New Jersey.
The 2016 show had a total entry of over 2200 dogs that represented 173 different breeds and varieties, with 112 Obedience and 82 Rally entries. This show is the largest annual all-breed show on the east coast.
In addition to exhibitors, each year's show draws thousands of local spectators, who enjoy not only the excitement of pure-bred dog competition, but also an incredible array of vendors offering great food and plentiful shopping for almost every kind of dog-related item you can imagine.